The Columbus Saints Drum & Bugle Corps is excited to announce the educational staff for the 2018 season and this year's 15th anniversary. This year's staff is jam packed with educators with experience from numerous DCI World Class Corps, DCA World Champions, and various ensembles taught by leading marching arts educators!
Brass
Joining the Saints this season is as Brass Caption Head is Nate Banzhof from Cincinnati, Ohio. He's entering his 5th year as assistant band director of Norwood HS, and is also the owner of Western Hills Music Shop. Marching with the DCI World Class Finalist Glassmen Drum & Bugle Corps from 1994-1995; and SoundSport Team Glassmen Alumni, Nate brings years of experience, and passion for music to develop and grow the Saints brass caption this season.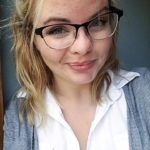 We're excited to have Amie Hartman of Grove City, OH joining this season as a Brass Technician. She holds a B.A. of Music in French Horn Performance from Youngstown State, and has a passion for teaching, working with numerous BOA and State Finalist bands; currently Central Crossing HS. As an alumni of the DCI World Class Finalist Glassmen Drum & Bugle Corps in 2012, she brings a wealth of experience and passion to the Saints.
For 2018, we're happy to have Austin Miller of Cincinnati, OH as Brass Technician. He's currently finishing a B.A. in Music Performance at Cincinnati Conservatory of Music, and has years of experience as a technician for BOA & State finalist bands such as Colerain HS, and more! He's high energy, and brings an level of excitement to the Saints to help members grow as performers.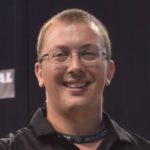 Returning for 2018 is Brad Thomas of Columbus, OH as Brass Consultant. Brad is one of the founding members of the Columbus Saints Drum & Bugle Corps, and has previously served as Brass Tech, and Arranger. He's an expert in Drum Corps History, with expansive knowledge and experience with brass marching instruments specifically G Bugles. He's an alumni of numerous corps including Cincinnati Tradition 2008-2012, Erie Thunderbirds 2017, Columbus Saints 2014,2017, Jim Ott Brass Ensemble 2015-2016, and more. He's also an alumni of the Ohio State University Marching Band 2016, and loves drum corps and the marching arts.
Percussion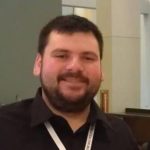 Leading our percussions staff this year as Caption Head is John Thacker of Cincinnati, Oh. John is an alumni of Cincinnati Tradition 2009-2017 winning back to back World Championships. He was a member of the Rhythm X Bengals GROWL! Drum line; University of Cincinnati Marching Band, and recently Mount St. Joseph Marching Band where he graduated with a B.A. in Music Education. John currently teaches numerous high school and college field and indoor programs including Mount St Joseph and high schools such as Lawrenceburg, Milford, and more. He is passionate about marching percussion, and is excited to grow the Saints percussion program this year as they pursue their second high percussion award this year!
We're excited to introduce you to Kristen McCormack ; our Front Ensemble Coordinator. She's an alumni of DCI World Class Finalists Carolina Crown 2014 & 2016, performing in the Front Ensemble, also performing in UMASS's concert band, Thom Hannum's marimba ensemble also his marching percussion techniques class. She holds a degree in Music Performance (piano) and Communication Disorders in May from University of Massachusetts Amherst graduating in 2017 and is currently a graduate student at Ohio State University studying Speech-Language Pathology with a Singing Health Specialization. Kristen is very high energy, and is excited to grow the Saints Front Ensemble this year and help young people grow as performers!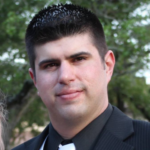 Bringing over 15 years of experience to the Saints, we're excited to have David Vielhaber as a Percussion Tech for our 2018 season. He has competed and/or taught at the high school and college levels as well as DCI, DCA, and WGI. David marched in the Southwest Texas State University Bobcat Band, 2000-2002, Bluecoats Drum & Bugle Corps of Canton, Ohio 2002- 2003 ; Element' Percussion WGI Open in 2002; Carolina Gold Drum & Bugle Corps in 2007-2008; Empire Statesmen 2010-2013; Rhythm in Blue (Bluecoats SoundSport), rounding out nearly 15 years of marching experience, with many years shared on the field with his wife Enid. He loves drum corps and bass drum, and is excited to share that love with the Saints.
Visual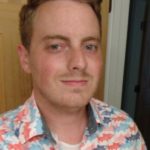 Evan Alexander is joining the Saints as our Visual Coordinator for the 2018 season and has been around the marching activity for almost a decade, starting as a student at Central Crossing High School in 2009 to currently being a member of the school's marching band staff for the last 3 seasons. He also spent 3 seasons marching with DCI World Class Finalists, Glassmen in 2012 and Blue Knights in 2013 & 2015. Evan is excited to join the Saints team to help develop the next generation of the activity.
Guard
Returning for her 5th season is Liz Steele as Guard Caption Head and Winter guard Director. Performing with Hamilton TWP marching band, and local indoor ensembles, and the Ohio Dominican University Marching Band, Liz brings a local focus to help build young people into strong performers. Liz holds a Bachelor's Degree from Ohio Dominican University and is currently employed as a legal professional. Her hobbies include reading, music concerts, theater productions, learning vintage hairstyles, and last but not least, color guard!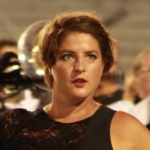 Joining the Saints for 2018 is Melissa Loringer, as a Guard Technician. She has 15 years of performing experience in WGI Finalists, Top Hats (Pittsburgh, PA) for the 2006-2007 winter season, numerouswhere she marched in the TRWEA and WGI circuits and most recently Erie Thunderbirds as a staff and performer winning DCA's Class A Best Colorguard in 2016. She also has served as caption or teach as numerous schools such as Fairview High School, and McDowell High School. Melissa brings years of experience, and a element of FUN to the Saints to grow younger performers!
…we'll be announcing more staff shortly so stay tuned!