We have launched a new fundraiser that will run now until Sunday, February, 12th, 2023 for the Super Bowl. Donations in increments of $10 purchases Squares on a Grid and gives the participants the opportunity to win a percentage of the earning each quarter of the game up to $500 per grid that we fill. As a marching arts organization we are accustomed to supporting football teams with our talents, and now we can help support our program from the biggest game of the season.
How this works:
Participants can purchase 1 -10 squares per grid and selects the squares on the grid. The order of the numbers (in green in the example below) will auto generated after the grid is complete. At the end of each quarter the last digit of the score would determine the winning square. Using the example below, the square with an X listed would win if any quarter ended with a score of Eagles 21 Chiefs 13 or Eagles 11 Chiefs 23, etc.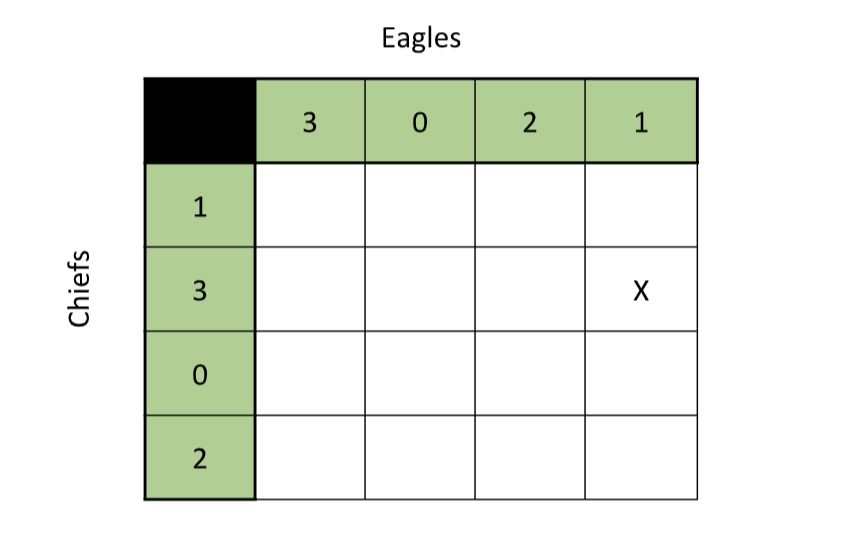 Winnings Breakdown for Squares
 End of 1st Quarter: 10%
 End of 2nd Quarter: 10%
 End of 3rd Quarter: 10%
 End of Game: 20%
As long as the grid fills up, then the payouts would be $100 per quarter and $200 at the end of the game. If it does not, the payouts would be adjusted based on the full participation using the percentages listed. This is a fun way to support the Columbus Saints while gathered with friends and family watching the game.